Line 3:
Line 3:
 
 
 

MK: Thank you for agreeing to meet for this interview, I know you are a busy dwarf.

 

MK: Thank you for agreeing to meet for this interview, I know you are a busy dwarf.

 
+
 

Kraz: Not at all, my young friend. Did you have any trouble finding the place?

 

Kraz: Not at all, my young friend. Did you have any trouble finding the place?

 
+
 

MK: Well, this is a Secret Lair, so yes, I had a lot of trouble finding it.

 

MK: Well, this is a Secret Lair, so yes, I had a lot of trouble finding it.

 
+
 

Kraz: Of course, of course. Would you care for a beverage? [calling out to one of his gruntie minions] Salvatore! Libations, now!

 

Kraz: Of course, of course. Would you care for a beverage? [calling out to one of his gruntie minions] Salvatore! Libations, now!

 
+
 

MK: Oh, no thank you.

 

MK: Oh, no thank you.

 
+
 

[A gruntie servant enters with a carafe of dark, syrupy liquid in each hand. The minion pours thick wine from one carafe into a goblet Kraz holds.]

 

[A gruntie servant enters with a carafe of dark, syrupy liquid in each hand. The minion pours thick wine from one carafe into a goblet Kraz holds.]

 
+
 

Kraz: Are you sure? You are probably wondering whether I instructed my minions before you arrived to have your beverage spiked with some kind of coma-inducing poison.

 

Kraz: Are you sure? You are probably wondering whether I instructed my minions before you arrived to have your beverage spiked with some kind of coma-inducing poison.

 
+
 

MK: The thought crossed my mind, yes.

 

MK: The thought crossed my mind, yes.

 
+
 

Kraz: I suppose that's understandable. I am a supervillain, after all, it would be wise not to trust me. [Kraz gives a dismissive wave at the gruntie, who waddles away.]

 

Kraz: I suppose that's understandable. I am a supervillain, after all, it would be wise not to trust me. [Kraz gives a dismissive wave at the gruntie, who waddles away.]

 
+
 

MK: Why do you use grunties as servants?

 

MK: Why do you use grunties as servants?

 
+
 

Kraz: It is not an ideal situation, granted. Grunties are generally stupid, stubborn, slow moving, and are not terribly fond of bathing. They are also prone to disloyalty and betrayal, and finding clothes that fit them is a pain in the neck. But, since nobody else will hire them, they work cheap. And they know if any of them slack off or get lippy, well, that means I get to have fresh bacon with my supper that night.

 

Kraz: It is not an ideal situation, granted. Grunties are generally stupid, stubborn, slow moving, and are not terribly fond of bathing. They are also prone to disloyalty and betrayal, and finding clothes that fit them is a pain in the neck. But, since nobody else will hire them, they work cheap. And they know if any of them slack off or get lippy, well, that means I get to have fresh bacon with my supper that night.

 
+
 

Grunties

 

Grunties

 
+
 

MK: I'd like to ask you about your career as a supervillain. How did you get started?

 

MK: I'd like to ask you about your career as a supervillain. How did you get started?

 
+
 

Kraz: Like all dwarves, I am obsessed with destruction. I believe what set me apart from my dwarven brothers is a certain … accelerated ambition.

 

Kraz: Like all dwarves, I am obsessed with destruction. I believe what set me apart from my dwarven brothers is a certain … accelerated ambition.

 
+
 

MK: What do you mean by that?

 

MK: What do you mean by that?

 
+
 

Kraz: The purpose of any dwarf's life is to destroy everything they see. While I do share that urge, my imagination always carried my aspirations beyond that of the typical dwarf. Not only do I want to destroy everything I see, but everything I cannot see.

 

Kraz: The purpose of any dwarf's life is to destroy everything they see. While I do share that urge, my imagination always carried my aspirations beyond that of the typical dwarf. Not only do I want to destroy everything I see, but everything I cannot see.

 
+
 

Dwarves are made of rock. Most have trouble thinking in abstract terms, they only know what is solid and tangible. If a dwarf wants to tunnel through a wall, he builds a wall-tunneling machine. He doesn't particularly care what he will find on the other side of the wall, or even imagine that anything at all exists beyond the stone. He builds the machine, bores through the rock, and is resolved to deal with whatever might be on the other side when he gets to it.

 

Dwarves are made of rock. Most have trouble thinking in abstract terms, they only know what is solid and tangible. If a dwarf wants to tunnel through a wall, he builds a wall-tunneling machine. He doesn't particularly care what he will find on the other side of the wall, or even imagine that anything at all exists beyond the stone. He builds the machine, bores through the rock, and is resolved to deal with whatever might be on the other side when he gets to it.

 
+
 

Now, due to my prodigious intellect, I am able to ponder the intangibles that my dwarven brethren do not, or cannot, consider important. I not only care what is on the other side of the wall, but what might happen to exist beyond the next wall, and the next, and the next, and so on.

 

Now, due to my prodigious intellect, I am able to ponder the intangibles that my dwarven brethren do not, or cannot, consider important. I not only care what is on the other side of the wall, but what might happen to exist beyond the next wall, and the next, and the next, and so on.

 
+
 

MK: Why break down a single wall when you can break them all at once, is that the idea?

 

MK: Why break down a single wall when you can break them all at once, is that the idea?

 
+
 

Kraz: Precisely! Most dwarves have an instinctual drive for demolition, but they go about it in the most inefficient way possible. They build these machines and robots to destroy one troop at a time, or one army, or one city.

 

Kraz: Precisely! Most dwarves have an instinctual drive for demolition, but they go about it in the most inefficient way possible. They build these machines and robots to destroy one troop at a time, or one army, or one city.

 
+
 

MK: Dwarves typically destroy only what's directly in front of them.

 

MK: Dwarves typically destroy only what's directly in front of them.

 
+
 

Kraz: Yes, yes, you understand, my friend! It is such a colossal waste of time. Why go about the process of destruction piecemeal over centuries, when you can annihilate the entire planet with the push of a single button?

 

Kraz: Yes, yes, you understand, my friend! It is such a colossal waste of time. Why go about the process of destruction piecemeal over centuries, when you can annihilate the entire planet with the push of a single button?

 
+
 

MK: Is that what you are working on here?

 

MK: Is that what you are working on here?

 
+
 

Kraz: Indeed. Over the course of the past few decades, I have poured all of my energy and intellect into a single device, a machine capable of unparalleled devastation: an Automated Recalcitrant Ginormous Universe Smasher. I call it ARGUS, the World Destroyer, Herald of Doom.

 

Kraz: Indeed. Over the course of the past few decades, I have poured all of my energy and intellect into a single device, a machine capable of unparalleled devastation: an Automated Recalcitrant Ginormous Universe Smasher. I call it ARGUS, the World Destroyer, Herald of Doom.

 
+
 

MK: May I see the World Destroyer?

 

MK: May I see the World Destroyer?

 
+
 

Kraz: I'm afraid not.

 

Kraz: I'm afraid not.

 
+
 

MK: Please?

 

MK: Please?

 
+
 

Kraz: Oh, all right, after we finish the interview.

 

Kraz: Oh, all right, after we finish the interview.

 
+
 

MK: Sweet.

 

MK: Sweet.

 
+
 

Kraz: Now, bear in mind, when you see the World Destroyer, remember that ARGUS is still in the proof-of-concept prototype stage. And the grunties did not get a chance to clean the lab, so there may be crumbs and empty ale mugs laying around.

 

Kraz: Now, bear in mind, when you see the World Destroyer, remember that ARGUS is still in the proof-of-concept prototype stage. And the grunties did not get a chance to clean the lab, so there may be crumbs and empty ale mugs laying around.

 
+
 

MK: Now, if I understand this correctly, the purpose of the World Destroyer is … to destroy the world?

 

MK: Now, if I understand this correctly, the purpose of the World Destroyer is … to destroy the world?

 
+
 

Kraz: That's the basic idea, yes. Did you know that there is a group of dwarves who have been working on some idiotic plan to destroy the surface of the planet by digging out enough of the underground from below so that the surface collapses below the ground? They have been at it for decades, building these ridiculous contraptions that only drill upwards, they need to be constantly fueled and maintained and recalibrated, it's a mess. The whole plan is a logistical nightmare and has exactly zero chance of working, yet if I try to convince my brothers they are wasting their lives with this nonsense, all my logic would bounce off their stone ears.

 

Kraz: That's the basic idea, yes. Did you know that there is a group of dwarves who have been working on some idiotic plan to destroy the surface of the planet by digging out enough of the underground from below so that the surface collapses below the ground? They have been at it for decades, building these ridiculous contraptions that only drill upwards, they need to be constantly fueled and maintained and recalibrated, it's a mess. The whole plan is a logistical nightmare and has exactly zero chance of working, yet if I try to convince my brothers they are wasting their lives with this nonsense, all my logic would bounce off their stone ears.

 
+
 

With ARGUS, I push a single button and the universe implodes. It's elegant, simple, and utterly brilliant. And it's almost complete.

 

With ARGUS, I push a single button and the universe implodes. It's elegant, simple, and utterly brilliant. And it's almost complete.

 
+
 

MK: Er, you do realize this interview to going to be read by many people, right? Including people who are going to come here and try to stop you from pushing that button?

 

MK: Er, you do realize this interview to going to be read by many people, right? Including people who are going to come here and try to stop you from pushing that button?

 
+
 

Kraz: Oh, absolutely. Merely designing and building the most perfect machine of destruction is not enough of a challenge for my incomparable skills, to be honest. From time to time, misguided "heroes" [Kraz makes "air quotes" with his fingers as he says this] attempt to infiltrate my secret lair with the intention of stopping me. They all fail, but I find their naïve ardor amusing.

 

Kraz: Oh, absolutely. Merely designing and building the most perfect machine of destruction is not enough of a challenge for my incomparable skills, to be honest. From time to time, misguided "heroes" [Kraz makes "air quotes" with his fingers as he says this] attempt to infiltrate my secret lair with the intention of stopping me. They all fail, but I find their naïve ardor amusing.

 
+
 

MK: How would one of these "heroes" go about trying to sneak into your seemingly impervious subterranean lair?

 

MK: How would one of these "heroes" go about trying to sneak into your seemingly impervious subterranean lair?

 
+
 

Kraz: Most of them attempt to infiltrate through the Marginally Concealed Secret Entrance.

 

Kraz: Most of them attempt to infiltrate through the Marginally Concealed Secret Entrance.

 
+
 

MK: Is that the big door in front with the enormous "K" carved into the front?

 

MK: Is that the big door in front with the enormous "K" carved into the front?

 
+
 

Kraz: Yes. I wasn't going for subtlety. I keep the entrance heavily guarded with grunties at all times, just to ensure any heroes that happen to wander by are serious about wanting to get in. Those looking for a straight-up brawl typically choose this path.

 

Kraz: Yes. I wasn't going for subtlety. I keep the entrance heavily guarded with grunties at all times, just to ensure any heroes that happen to wander by are serious about wanting to get in. Those looking for a straight-up brawl typically choose this path.

 
+
 

Of course, some of the sneakier types try to infiltrate the Lair through the Minion's Entrance, which is well-hidden and warded with magical alarms. The wards are challenging, but not impossible for a hero with a bit of luck and determination. After all, I had to make the wards simple enough for stupid grunties to be able to pass in and out without setting off the alarms every thirteen seconds.

 

Of course, some of the sneakier types try to infiltrate the Lair through the Minion's Entrance, which is well-hidden and warded with magical alarms. The wards are challenging, but not impossible for a hero with a bit of luck and determination. After all, I had to make the wards simple enough for stupid grunties to be able to pass in and out without setting off the alarms every thirteen seconds.

 
+
 

MK: What happens if a hero manages to beat down the gruntie minions guarding the front door or sneak through the hidden, warded side entrance?

 

MK: What happens if a hero manages to beat down the gruntie minions guarding the front door or sneak through the hidden, warded side entrance?

 
+
 

Kraz: Then they will have to navigate the Death Array, a complex laser defense system that requires a fair amount of skill and dexterity to traverse. A hero who diverts their path through the Death Array by even a micrometer off the prescribed course will lose any number of limbs and/or organs. And they will have to do so while stepping carefully over the corpses of those who have also tried, and failed. It's difficult, but not impossible.

 

Kraz: Then they will have to navigate the Death Array, a complex laser defense system that requires a fair amount of skill and dexterity to traverse. A hero who diverts their path through the Death Array by even a micrometer off the prescribed course will lose any number of limbs and/or organs. And they will have to do so while stepping carefully over the corpses of those who have also tried, and failed. It's difficult, but not impossible.

 
+
 

MK: And after the Death Array?

 

MK: And after the Death Array?

 
+
 

Kraz: Very few heroes make it even that far, but there have been a few hardheaded dimwits that managed to cross it. A set of narrow, slippery stairs leads down to one of my laboratories.

 

Kraz: Very few heroes make it even that far, but there have been a few hardheaded dimwits that managed to cross it. A set of narrow, slippery stairs leads down to one of my laboratories.

 
+
 

MK: What's in there?

 

MK: What's in there?

 
+
 

Kraz: Experiments, blueprints, prototypes, and a varied collection of hidden explosives triggered to detonate if a hero manages to step on the wrong floor tile or lift the wrong tool from one of the worktables. There is little that makes me laugh harder than when I hear a random explosion from the lab, and I go to see how far the numerous bits of blown-up hero managed to fly, and whether any of the pieces made it all the way up to the vaulted ceiling and stuck there.

 

Kraz: Experiments, blueprints, prototypes, and a varied collection of hidden explosives triggered to detonate if a hero manages to step on the wrong floor tile or lift the wrong tool from one of the worktables. There is little that makes me laugh harder than when I hear a random explosion from the lab, and I go to see how far the numerous bits of blown-up hero managed to fly, and whether any of the pieces made it all the way up to the vaulted ceiling and stuck there.

 
+
 

MK: You don't mind having to clean the remains of blown-up infiltrators?

 

MK: You don't mind having to clean the remains of blown-up infiltrators?

 
+
 

Kraz: That's what grunties are for.

 

Kraz: That's what grunties are for.

 
+
 

MK: So, how many of these heroes actually made it to your Central Command Chamber?

 

MK: So, how many of these heroes actually made it to your Central Command Chamber?

 
+
 

Kraz: A few. They usually sweep into my inner sanctum in a breathless huff of self-righteousness, make some kind of long-winded speech about how they aren't going to let a lunatic like me blow up the world, yada yada yada. Some of them have even been dwarves who object to my methods, willing to die in my traps to protect their antiquated devotion to more conventional methods of destruction. Pathetic.

 

Kraz: A few. They usually sweep into my inner sanctum in a breathless huff of self-righteousness, make some kind of long-winded speech about how they aren't going to let a lunatic like me blow up the world, yada yada yada. Some of them have even been dwarves who object to my methods, willing to die in my traps to protect their antiquated devotion to more conventional methods of destruction. Pathetic.

 
+
 

MK: It almost seems like you are encouraging heroes to come here and try to stop you.

 

MK: It almost seems like you are encouraging heroes to come here and try to stop you.

 
+
 

Kraz: I honestly don't mind at all, it's always an interesting diversion to my day. And, of course, they have no chance of actually succeeding. I just wish they would occasionally come up with a sermon I haven't heard a hundred times before.

 

Kraz: I honestly don't mind at all, it's always an interesting diversion to my day. And, of course, they have no chance of actually succeeding. I just wish they would occasionally come up with a sermon I haven't heard a hundred times before.

 
+
 

MK: And then you kill them.

 

MK: And then you kill them.

 
+
 

Kraz: Of course I kill them. I'm a supervillain. By the way, do you like my kitty?

 

Kraz: Of course I kill them. I'm a supervillain. By the way, do you like my kitty?

 
+
 

MK: I'm not really much of a cat person.

 

MK: I'm not really much of a cat person.

 
+
 

Kraz: Then you would make a horrible supervillain.

 

Kraz: Then you would make a horrible supervillain.

 
+
 

MK: You're probably right. Now, aren't you worried that one of these heroes might successfully infiltrate your Secret Lair and actually stop you from activating ARGUS before you complete construction?

 

MK: You're probably right. Now, aren't you worried that one of these heroes might successfully infiltrate your Secret Lair and actually stop you from activating ARGUS before you complete construction?

 
+
 

Kraz: That is not going to happen, son.

 

Kraz: That is not going to happen, son.

 
+
 

MK: Some might take that as a challenge.

 

MK: Some might take that as a challenge.

 
+
 

Kraz: I hope they do. I hope that there is an intrepid adventurer out there, or perhaps even a whole band of them, who are reading this interview and are so full of themselves that they will take up my dare. If you believe you can infiltrate my impermeable lair and take me out once and for all, then, by all means, take your best shot. Come one, come all. I'm waiting for you.

 

Kraz: I hope they do. I hope that there is an intrepid adventurer out there, or perhaps even a whole band of them, who are reading this interview and are so full of themselves that they will take up my dare. If you believe you can infiltrate my impermeable lair and take me out once and for all, then, by all means, take your best shot. Come one, come all. I'm waiting for you.

 
+
 

Bear in mind, heroes, that the clock is ticking. With each passing moment, I am closer to finishing the World Destroyer machine and killing you and everyone you have ever known and loved. Tick tick tick, friends, tick tick tick. My finger is on the switch, all it takes is one flip and everything goes "poof".

 

Bear in mind, heroes, that the clock is ticking. With each passing moment, I am closer to finishing the World Destroyer machine and killing you and everyone you have ever known and loved. Tick tick tick, friends, tick tick tick. My finger is on the switch, all it takes is one flip and everything goes "poof".

 

<div style="float: right;">[[File:Kraz2.jpg|200px]]</div>

 

<div style="float: right;">[[File:Kraz2.jpg|200px]]</div>
---
Latest revision as of 14:45, 19 July 2014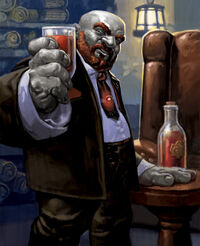 A power-hungry madman with a hunger for global apocalypse, Kraz was surprisingly hospitable and forthcoming when I sat down with him in his Secret Lair located somewhere in the bleak subterranean depths of the dwarven homelands, a region known as Scrios.
MK: Thank you for agreeing to meet for this interview, I know you are a busy dwarf.
Kraz: Not at all, my young friend. Did you have any trouble finding the place?
MK: Well, this is a Secret Lair, so yes, I had a lot of trouble finding it.
Kraz: Of course, of course. Would you care for a beverage? [calling out to one of his gruntie minions] Salvatore! Libations, now!
MK: Oh, no thank you.
[A gruntie servant enters with a carafe of dark, syrupy liquid in each hand. The minion pours thick wine from one carafe into a goblet Kraz holds.]
Kraz: Are you sure? You are probably wondering whether I instructed my minions before you arrived to have your beverage spiked with some kind of coma-inducing poison.
MK: The thought crossed my mind, yes.
Kraz: I suppose that's understandable. I am a supervillain, after all, it would be wise not to trust me. [Kraz gives a dismissive wave at the gruntie, who waddles away.]
MK: Why do you use grunties as servants?
Kraz: It is not an ideal situation, granted. Grunties are generally stupid, stubborn, slow moving, and are not terribly fond of bathing. They are also prone to disloyalty and betrayal, and finding clothes that fit them is a pain in the neck. But, since nobody else will hire them, they work cheap. And they know if any of them slack off or get lippy, well, that means I get to have fresh bacon with my supper that night.
Grunties
MK: I'd like to ask you about your career as a supervillain. How did you get started?
Kraz: Like all dwarves, I am obsessed with destruction. I believe what set me apart from my dwarven brothers is a certain … accelerated ambition.
MK: What do you mean by that?
Kraz: The purpose of any dwarf's life is to destroy everything they see. While I do share that urge, my imagination always carried my aspirations beyond that of the typical dwarf. Not only do I want to destroy everything I see, but everything I cannot see.
Dwarves are made of rock. Most have trouble thinking in abstract terms, they only know what is solid and tangible. If a dwarf wants to tunnel through a wall, he builds a wall-tunneling machine. He doesn't particularly care what he will find on the other side of the wall, or even imagine that anything at all exists beyond the stone. He builds the machine, bores through the rock, and is resolved to deal with whatever might be on the other side when he gets to it.
Now, due to my prodigious intellect, I am able to ponder the intangibles that my dwarven brethren do not, or cannot, consider important. I not only care what is on the other side of the wall, but what might happen to exist beyond the next wall, and the next, and the next, and so on.
MK: Why break down a single wall when you can break them all at once, is that the idea?
Kraz: Precisely! Most dwarves have an instinctual drive for demolition, but they go about it in the most inefficient way possible. They build these machines and robots to destroy one troop at a time, or one army, or one city.
MK: Dwarves typically destroy only what's directly in front of them.
Kraz: Yes, yes, you understand, my friend! It is such a colossal waste of time. Why go about the process of destruction piecemeal over centuries, when you can annihilate the entire planet with the push of a single button?
MK: Is that what you are working on here?
Kraz: Indeed. Over the course of the past few decades, I have poured all of my energy and intellect into a single device, a machine capable of unparalleled devastation: an Automated Recalcitrant Ginormous Universe Smasher. I call it ARGUS, the World Destroyer, Herald of Doom.
MK: May I see the World Destroyer?
Kraz: I'm afraid not.
MK: Please?
Kraz: Oh, all right, after we finish the interview.
MK: Sweet.
Kraz: Now, bear in mind, when you see the World Destroyer, remember that ARGUS is still in the proof-of-concept prototype stage. And the grunties did not get a chance to clean the lab, so there may be crumbs and empty ale mugs laying around.
MK: Now, if I understand this correctly, the purpose of the World Destroyer is … to destroy the world?
Kraz: That's the basic idea, yes. Did you know that there is a group of dwarves who have been working on some idiotic plan to destroy the surface of the planet by digging out enough of the underground from below so that the surface collapses below the ground? They have been at it for decades, building these ridiculous contraptions that only drill upwards, they need to be constantly fueled and maintained and recalibrated, it's a mess. The whole plan is a logistical nightmare and has exactly zero chance of working, yet if I try to convince my brothers they are wasting their lives with this nonsense, all my logic would bounce off their stone ears.
With ARGUS, I push a single button and the universe implodes. It's elegant, simple, and utterly brilliant. And it's almost complete.
MK: Er, you do realize this interview to going to be read by many people, right? Including people who are going to come here and try to stop you from pushing that button?
Kraz: Oh, absolutely. Merely designing and building the most perfect machine of destruction is not enough of a challenge for my incomparable skills, to be honest. From time to time, misguided "heroes" [Kraz makes "air quotes" with his fingers as he says this] attempt to infiltrate my secret lair with the intention of stopping me. They all fail, but I find their naïve ardor amusing.
MK: How would one of these "heroes" go about trying to sneak into your seemingly impervious subterranean lair?
Kraz: Most of them attempt to infiltrate through the Marginally Concealed Secret Entrance.
MK: Is that the big door in front with the enormous "K" carved into the front?
Kraz: Yes. I wasn't going for subtlety. I keep the entrance heavily guarded with grunties at all times, just to ensure any heroes that happen to wander by are serious about wanting to get in. Those looking for a straight-up brawl typically choose this path.
Of course, some of the sneakier types try to infiltrate the Lair through the Minion's Entrance, which is well-hidden and warded with magical alarms. The wards are challenging, but not impossible for a hero with a bit of luck and determination. After all, I had to make the wards simple enough for stupid grunties to be able to pass in and out without setting off the alarms every thirteen seconds.
MK: What happens if a hero manages to beat down the gruntie minions guarding the front door or sneak through the hidden, warded side entrance?
Kraz: Then they will have to navigate the Death Array, a complex laser defense system that requires a fair amount of skill and dexterity to traverse. A hero who diverts their path through the Death Array by even a micrometer off the prescribed course will lose any number of limbs and/or organs. And they will have to do so while stepping carefully over the corpses of those who have also tried, and failed. It's difficult, but not impossible.
MK: And after the Death Array?
Kraz: Very few heroes make it even that far, but there have been a few hardheaded dimwits that managed to cross it. A set of narrow, slippery stairs leads down to one of my laboratories.
MK: What's in there?
Kraz: Experiments, blueprints, prototypes, and a varied collection of hidden explosives triggered to detonate if a hero manages to step on the wrong floor tile or lift the wrong tool from one of the worktables. There is little that makes me laugh harder than when I hear a random explosion from the lab, and I go to see how far the numerous bits of blown-up hero managed to fly, and whether any of the pieces made it all the way up to the vaulted ceiling and stuck there.
MK: You don't mind having to clean the remains of blown-up infiltrators?
Kraz: That's what grunties are for.
MK: So, how many of these heroes actually made it to your Central Command Chamber?
Kraz: A few. They usually sweep into my inner sanctum in a breathless huff of self-righteousness, make some kind of long-winded speech about how they aren't going to let a lunatic like me blow up the world, yada yada yada. Some of them have even been dwarves who object to my methods, willing to die in my traps to protect their antiquated devotion to more conventional methods of destruction. Pathetic.
MK: It almost seems like you are encouraging heroes to come here and try to stop you.
Kraz: I honestly don't mind at all, it's always an interesting diversion to my day. And, of course, they have no chance of actually succeeding. I just wish they would occasionally come up with a sermon I haven't heard a hundred times before.
MK: And then you kill them.
Kraz: Of course I kill them. I'm a supervillain. By the way, do you like my kitty?
MK: I'm not really much of a cat person.
Kraz: Then you would make a horrible supervillain.
MK: You're probably right. Now, aren't you worried that one of these heroes might successfully infiltrate your Secret Lair and actually stop you from activating ARGUS before you complete construction?
Kraz: That is not going to happen, son.
MK: Some might take that as a challenge.
Kraz: I hope they do. I hope that there is an intrepid adventurer out there, or perhaps even a whole band of them, who are reading this interview and are so full of themselves that they will take up my dare. If you believe you can infiltrate my impermeable lair and take me out once and for all, then, by all means, take your best shot. Come one, come all. I'm waiting for you.
Bear in mind, heroes, that the clock is ticking. With each passing moment, I am closer to finishing the World Destroyer machine and killing you and everyone you have ever known and loved. Tick tick tick, friends, tick tick tick. My finger is on the switch, all it takes is one flip and everything goes "poof".
So come and get me, you spineless morons.